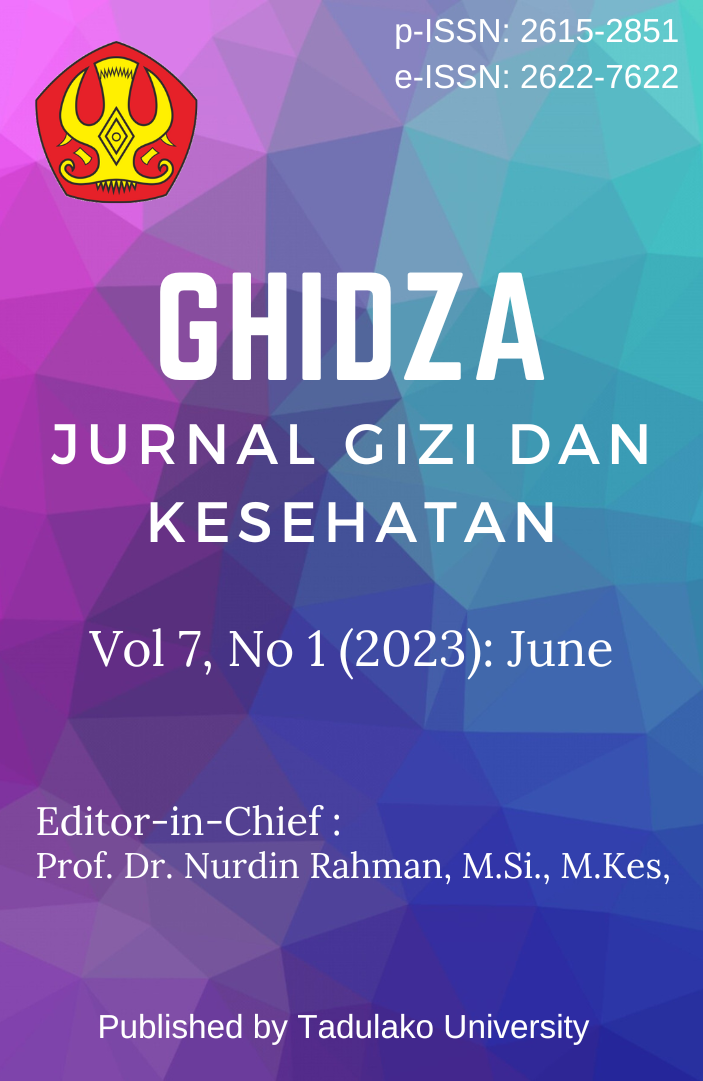 Analisis Senyawa Fitokimia, Organoleptik, Uji Aktivitas Inhibisi Enzim Tirosinase Minyak Biji Argan (Argan spinosa L.) dan Ekstrak Akar Murbei (Morus Alba L.) Sebagai Whitening Agent Pada Kulit
Article History
Submited : January 13, 2023
Published : June 26, 2023
Tujuan penelitian ini adalah untuk mengembangkan formulasi sediaan nanoemulgel yang mengandung nanoemulsi kombinasi minyak biji argan dan ekstrak akar murbei yang memiliki aktivitas penghambat enzim tirosinase, serta memberikan manfaat gizi dan meningkatkan kesehatan kulit. Jenis penelitian ini merupakan penelitian eksperimen. Bahan aktif yang digunakan adalah akar murbei (morus alba L) yang diperoleh dari perkebunan bogor dan minyak biji argan (Argania Spinosa L) yang diperoleh dari PT. Nardevchem. Bahan uji yaitu enzim tirosinase yang diperoleh dari Laboratorium Pusat Studi Biofarmaka. Hasil penetapan penapisan fitokimia dari ekstrak minyak biji argan dan akar murbei menunjukan bahwa minyak biji argan dan akar murbei mengandung alkaloid, saponin, tannin, fenolik, flavonoid, glikosida, triterpenoid. Hasil uji aktivitas inhibisi enzim tirosinase menunjukkan bahwa formula nanoemulgel memiliki potensi yang signifikan dalam menghambat aktivitas enzim tirosinase. Penambahan nanoemulsi minyak biji argan dan ekstrak akar murbei dalam formula nanoemulgel memberikan kontribusi positif terhadap efek inhibisi enzim tyrosinase. Formula terbaik yaitu formula II karena mempunyai zeta potensial dan TEM yang paling kecil.
Ansel, Howard C., Nicholas G. Popovich, and Loyd V Allen. 2013. Bentuk Sediaan Farmasetis Dansitem Penghantaran Obat. 9th ed. edited by H. Lucia and F. Kuncoro. Jakarta: Penerbit Buku Kedokteran EGC.
Batubara, I., L. K. Darusman, T. Mitsunaga, H. Aoki, M. Rahminiwati, E. Djauhari, and K. Yamauchi. 2011. "Flavonoid from Intsia Palembanica as Skin Whitening Agent." Journal of Biological Sciences 11(8):475–80. doi: 10.3923/JBS.2011.475.480.
Batubara, I., L. K. Darusman, T. Mitsunaga, M. Rahminiwati, and E. Djauhari. 2010. "Potency of Indonesian Medicinal Plants as Tyrosinase Inhibitor and Antioxidant Agent." Journal of Biological Sciences 10(2):138–44. doi: 10.3923/JBS.2010.138.144.
Charissa, Meiliana, Joshita Djajadisastra, and Berna Elya. 2016. "Antioxidant Activity Assay, Inhibition of Tyrosinase and Efficacy Test of Gel Containing Taya Cortex (Nauclea Subdita) Extract on Human Skin." Jurnal Kefarmasian Indonesia 6(2):98–107.
Chatatikun, Moragot, and Anchalee Chiabchalard. 2017. "Thai Plants with High Antioxidant Levels, Free Radical Scavenging Activity, Anti-Tyrosinase and Anti-Collagenase Activity." BMC Complementary and Alternative Medicine 17(1):487. doi: 10.1186/s12906-017-1994-7.
Cooksey, Christopher J., Peter J. Garratt, Edward J. Land, Stan Pavel, Christopher A. Ramsden, Patrick A. Riley, and Nico P. M. Smit. 1997. "Evidence of the Indirect Formation of the Catecholic Intermediate Substrate Responsible for the Autoactivation Kinetics of Tyrosinase." Journal of Biological Chemistry 272(42):26226–35. doi: 10.1074/JBC.272.42.26226.
Hariana, H. Arief. 2008. Tumbuhan Obat Dan Khasiat. 2nd ed. Jakarta: Penebar Swadaya Grup.
Hindun, Siti, Taofik Rusdiana, Marline Abdasah, and Reti Hindritiani. 2017. "Potensi Limbah Kulit Jeruk Nipis (Citrus auronfolia) Sebagai Inhibitor Tirosinase." Indonesian Journal of Pharmaceutical Science and Technology 4(2):64–69. doi: 10.15416/ijpst.v4i2.12642.
Lin, Jen Wen, Hsiu Me Chiang, Yi Chun Lin, and Kuo Ching Wen. 2020. "Natural Products with Skin - Whitening Effects." Journal of Food and Drug Analysis 16(2):8. doi: 10.38212/2224-6614.2366.
M.T.H. Khan. 2012. "Novel Tyrosinase Inhibitors From Natural Resources - Their Computational Studies." Current Medicinal Chemistry 19(14):2262–72. doi: 10.2174/092986712800229041.
Narayanaswamy, Nithya, Arun Duraisamy, and K. Balakrishnan. 2011. "Screening of Some Medicinal Plants for Their Antityrosinase and Antioxidant Activities." International Journal of PharmTech Research 3(2):1107–12.
Parvez, Shoukat, Moonkyu Kang, Hwan Suck Chung, and Hyunsu Bae. 2007. "Naturally Occurring Tyrosinase Inhibitors: Mechanism and Applications in Skin Health, Cosmetics and Agriculture Industries." Phytotherapy Research : PTR 21(9):805–16. doi: 10.1002/PTR.2184.
Setiawan, Dalimartha. 1999. Atlas Tumbuhan Obat Tradisiona; edited by Aby Nahdah. Puspa Swara.
Sherwood, Lauralee. 2001. Fisiologi Manusia Dari Sel Kesistem. Jakarta: Penerbit Buku Kedokteran EGC.
Sholikha, Munawarohthus, Wahyuningtyas, and Lia Puspitasari. 2023. "Uji Aktivitas Penghambatan Enzim Tirosinase Oleh Ekstrak Etanol Daun Keladi Tikus (Typhonium Flagelliforme (Lodd.) Blume) Secara In Vitro." Sainstech Farma 16(1):1–6.
Slominski, Andrzej, Desmond J. Tobin, Shigeki Shibahara, and Jacobo Wortsman. 2004. "Melanin Pigmentation in Mammalian Skin and Its Hormonal Regulation." Physiological Reviews 84(4):1155–1228. doi: 10.1152/PHYSREV.00044.2003/ASSET/IMAGES/LARGE/Z9J0040403240013.JPEG.
Smit, Nico, Jana Vicanova, and Stan Pavel. 2009. "The Hunt for Natural Skin Whitening Agents." International Journal of Molecular Sciences 10(12):5326. doi: 10.3390/IJMS10125326.
Touitou, Elka, and Brian W. Barry. 2007. Enhancement in Drug Delivery. CRC Press.
Villareal, Myra O., Sayuri Kume, Thouria Bourhim, Fatima Zahra Bakhtaoui, Kenichi Kashiwagi, Junkyu Han, Chemseddoha Gadhi, and Hiroko Isoda. 2013. "Activation of MITF by Argan Oil Leads to the Inhibition of the Tyrosinase and Dopachrome Tautomerase Expressions in B16 Murine Melanoma Cells." Evidence-Based Complementary and Alternative Medicine : ECAM 2013. doi: 10.1155/2013/340107.
Walters, Kenneth A. 2002. Dermatological and Transdermal Formulations. M. Dekker.
Zheng, Zong Ping, Ka Wing Cheng, Qin Zhu, Xia Chang Wang, Zhi Xiu Lin, and Mingfu Wang. 2010. "Tyrosinase Inhibitory Constituents from the Roots of Morus Nigra: A Structure-Activity Relationship Study." Journal of Agricultural and Food Chemistry 58(9):5368–73. doi: 10.1021/JF1003607.
Hijayanti, R., Rahmat, D., & Djamil, R. (2023). Analisis Senyawa Fitokimia, Organoleptik, Uji Aktivitas Inhibisi Enzim Tirosinase Minyak Biji Argan (Argan spinosa L.) dan Ekstrak Akar Murbei (Morus Alba L.) Sebagai Whitening Agent Pada Kulit. Ghidza: Jurnal Gizi Dan Kesehatan, 7(1), 157-165. https://doi.org/10.22487/ghidza.v7i1.617
Copyright (c) 2023 Ghidza: Jurnal Gizi dan Kesehatan
This work is licensed under a Creative Commons Attribution-ShareAlike 4.0 International License.