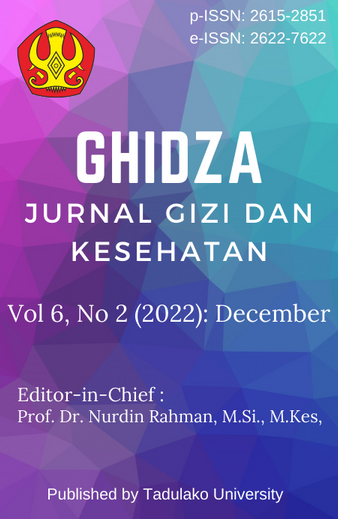 Hubungan Pengetahuan dan Sikap tentang Perilaku Merokok pada Lansia di Kelurahan Kawatuna
Article History
Submited : November 10, 2022
Published : December 27, 2022
Rokok adalah zat adaktif yang dapat mengakibatkan bahaya untuk kesehatan baik pada individu maupun masyarakat apabila digunakan. Tujuan penelitian adalah diketahui hubungan pengetahuan dan sikap dengan perilaku merokok pada lansia di Kelurahan Kawatuna Kecamatan Mantikulore. Metode penelitian adalah jenis penelitian analitik. Lokasi penelitian ini dilaksanakan di Kelurahan Kawatuna pada tahun 2022. Populasi adalah lansia perokok di Kelurahan Kawatuna dan besar sampel yaitu 30 Lansia perokok aktif yang berkunjung ke Puskesmas Kawatuna selama periode bulan April-Juni 2022. Uji statistik yaitu uji che square. Hasil penelitian menunjukkan bahwa paling banyak responden yang memiliki tingkat pengetahuan baik yaitu 17 responden (56,7%) dan yang memiliki sikap baik mengenai rokok yaitu 19 responden (63,3%). Hasil uji statistik menunjukkan bahwa ada hubungan pengetahuan dengan perilaku merokok dengan nilai p value adalah 0,013 dan sikap dengan perilaku merokok adalah 0,009 dimana p value kedua variable < 0,05. Kesimpulan penelitian adalah terdapat hubungan yang signifikan antara pengetahuan dan sikap dengan perilaku merokok pada lansia di Kelurahan Kawatuna Kecamatan Mantikulore.
Daroji, M., Prabandari, Y. S., & Paramastri, I. (2011). Peran Petugas Puskesmas dalam Promosi Kesehatan Berhenti Merokok pada Pasien dan Masyarakat. Berita Kedokteran Masyarakat, 27(2), 83–93.
Dyal, S. R., & Valente, T. W. (2015). A Systematic Review of Loneliness and Smoking: Small Effects, Big Implications. Substance Use & Misuse, 50(13), 1697–1716. https://doi.org/10.3109/10826084.2015.1027933
Fatonah, S. (2017). Pengaruh Terpaan Iklan Layanan Masyarakat Anti Merokok Terhadap Sikap Pada Perilaku Merokok [Skripsi]. Universitas Negeri Semarang.
Fimbriani, Y. I. (2011). Keyakinan dan Nilai Penting Rokok Bagi Lansia Di Turi, Sleman, Yogyakarta: Kajian Konteks Perkembangan Rokok di Indonesia [Skripsi]. Unversitas Sanata Dharma.
Gopal, D. M., Kalogeropoulos, A. P., Georgiopoulou, V. V., Smith, A. L., Bauer, D. C., Newman, A. B., Kim, L., Bibbins-Domingo, K., Tindle, H., Harris, T. B., Tang, W. W. H., Kritchevsky, S. B., & Butler, J. (2012). Cigarette Smoking Exposure and Heart Failure Risk in Older Adults: The Health, Aging, and Body Composition Study. American Heart Journal, 164(2), 236–242. https://doi.org/10.1016/j.ahj.2012.05.013
He, Z., Cheng, Z., Shao, T., Liu, C., Shao, P., Bishwajit, G., Feng, D., & Feng, Z. (2016). Factors Influencing Health Knowledge and Behaviors among the Elderly in Rural China. International Journal of Environmental Research and Public Health, 13(10), 975. https://doi.org/10.3390/ijerph13100975
Hidayat, T. (2012). Analisis Faktor Yang Berhubungan Dengan Perilaku Merokok Pada Mahasiswa Keperawatan Di Wilayah Provinsi Kalimantan Selatan [Thesis]. Universitas Indonesia.
Holipah, H., Sulistomo, H. W., & Maharani, A. (2020). Tobacco smoking and risk of all-cause mortality in Indonesia. PLOS ONE, 15(12), e0242558. https://doi.org/10.1371/journal.pone.0242558
Kuntara, W. (2012). Hubungan antara Tingkat Pengetahuan Penyakit Akibat Merokok dengan Perilaku Merokok pada Usia Dewasa Awal di Desa Kacangan Kecamatan Andong Kabupaten Boyolali [Skripsi]. Universitas Muhammadiyah Surakarta.
Notoatmodjo. (2007). Promosi Kesehatan dan Ilmu Perilaku. Rineka Cipta.
Panahi, R., Osmani, F., Javanmardi, K., Ramezankhani, A., Dehghankar, L., Amini, R., Haeri Mehrizi, A. A., Amjadian, M., Anbari, M., & Hosseini, N. (2021). The Relationship between Different Levels of Health Literacy and Smoking Prevention Among Medical Sciences Student. International Journal of Preventive Medicine, 12, 124. https://doi.org/10.4103/ijpvm.IJPVM_460_20
Secker‐Walker, R., Gnich, W., Platt, S., & Lancaster, T. (2002). Community interventions for reducing smoking among adults. The Cochrane Database of Systematic Reviews, 2002(2), CD001745. https://doi.org/10.1002/14651858.CD001745
Sousa, C., Rodrigues, M., Carvalho, A., Viamonte, B., Cunha, R., Guimarães, S., de Moura, C. S., Morais, A., & Pereira, J. M. (2019). Diffuse smoking-related lung diseases: Insights from a radiologic-pathologic correlation. Insights into Imaging, 10(1), 73. https://doi.org/10.1186/s13244-019-0765-z
WHO. (2022). Tobacco. https://www.who.int/news-room/fact-sheets/detail/tobacco
Widiyaningsih, D. (2020). Konseling Merokok Berjenjang Terapi Non Farmakologi Pada Perokok Lansia Perempuan di Dataran Tinggi Dieng. Jurnal Pengabmas Masyarakat Sehat, 2(3), 196–203.
Xu, X., Liu, L., Sharma, M., & Zhao, Y. (2015). Smoking-Related Knowledge, Attitudes, Behaviors, Smoking Cessation Idea and Education Level among Young Adult Male Smokers in Chongqing, China. International Journal of Environmental Research and Public Health, 12(2), 2135–2149. https://doi.org/10.3390/ijerph120202135
Putra, W., Devi, R., & Hadijah, S. (2022). Hubungan Pengetahuan dan Sikap tentang Perilaku Merokok pada Lansia di Kelurahan Kawatuna. Ghidza: Jurnal Gizi Dan Kesehatan, 6(2), 217-223. https://doi.org/10.22487/ghidza.v6i2.575
Copyright (c) 2022 Ghidza: Jurnal Gizi dan Kesehatan
This work is licensed under a Creative Commons Attribution-ShareAlike 4.0 International License.