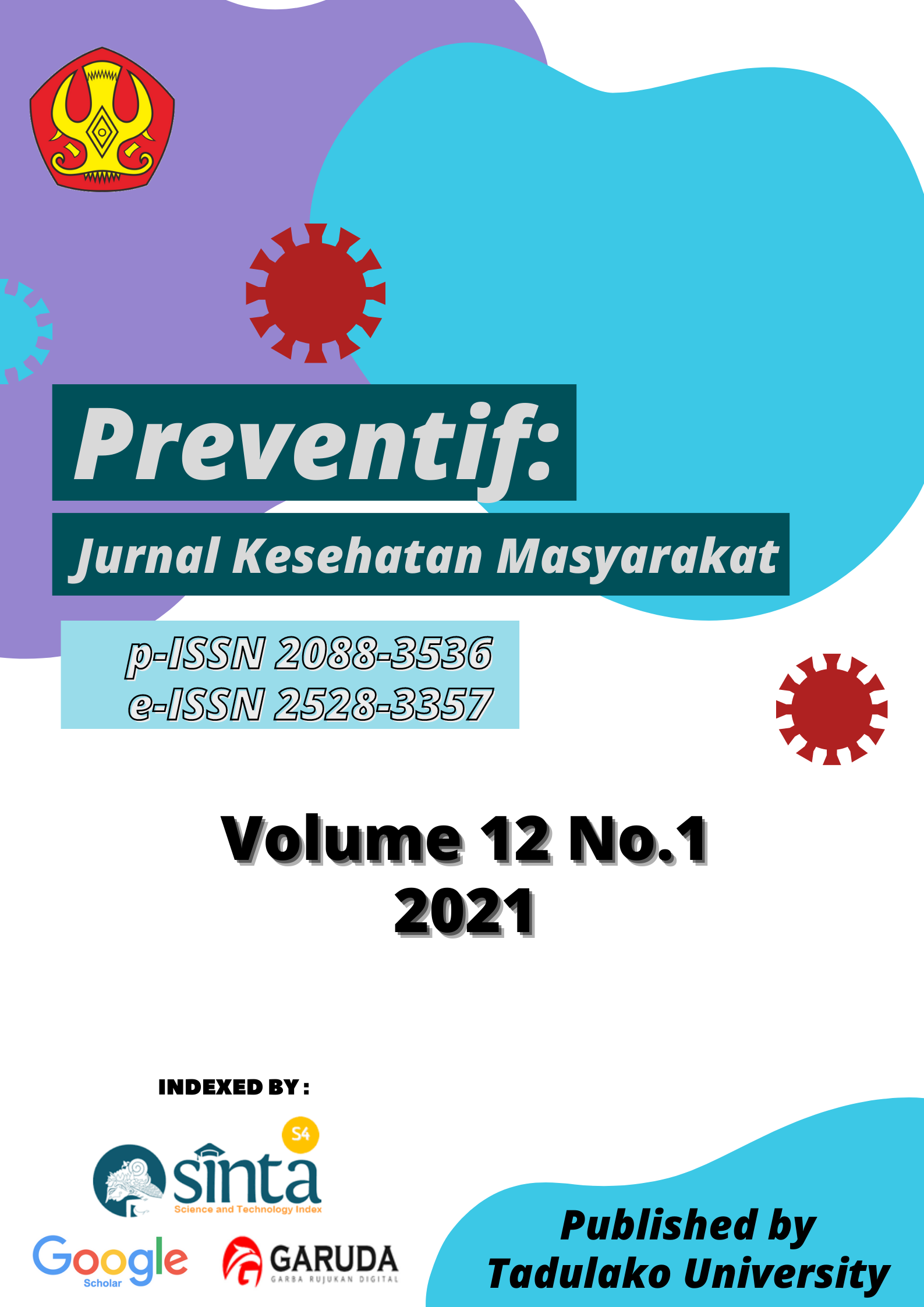 Gambaran Faktor Perilaku Bermain Game Online Pada Remaja
Article History
Submited : November 30, 2020
Published : June 30, 2021
Internet telah mengubah kecenderungan permainan di kalangan remaja. Saat ini, sebagian besar remaja mendapatkan hiburan melalui komputer dan smartphone misalnya bermain game online. WHO secara resmi menetapkan kecanduan game atau game disorder ke dalam versi terbaru ICD sebagai penyakit gangguan mental. Penelitian ini akan dilakukan pada remaja yang aktif bermain game online selama satu tahun terakhir di Surabaya. Tujuan dari penelitian ini adalah untuk menggambarkan faktor perilaku bermain game online pada remaja berdasarkan teori Snehandu B. kar (1984). Penelitian ini merupakan penelitian deskriptif observasional dengan rancangan penelitian cross sectional. Jumlah responden pada penelitian ini sebanyak 97 remaja usia 10 – 24 tahun yang aktif bermain game online selama setahun terakhir. Cara pengambilan sampel pada penelitian ini menggunakan teknik Non Probability Sampling dengan jenis Accidental Sampling. Hasil penelitian menunjukkan bahwa sebagian besar responden berusia 18-24 tahun (82,5%), memiliki uang saku < Rp 1.000.000 perbulan (70,1%), memiliki dukungan sosial rendah untuk bermain game online (57,7%), memiliki akses informasi rendah (56,7%), memiliki otonomi pribadi rendah (57,7%), memiliki situasi yang tidak mendukung untuk bermain game online (59,8%), dan memiliki niat bermain game online rendah (57,7%).
1. Newzoo. market report Global. 2019;
2. Asosiasi Penyelenggara Jasa Internet Indonesia. Penetrasi & profil perilaku pengguna internet indonesia. 2018;
3. Griffiths MD, Davies MNO, Chappell D. Online computer gaming : a comparison of adolescent and adult gamers. 2004;27:87–96.
4. Liebert MA. Time Distortion for Expert and Novice Online Game Players. 2016;(February).
5. Oyun Ç, Ölçeği B, Ölçek B, Çalışması G. Motives and Consequences of Online Game Addiction : A Scale Development Study. 2018;1–8.
6. Nofianti. Hubungan Intensitas Bermain Game Online dengan Kualitas Tidur pada Remaja Akhir. Jurnal Ilmiah Kesehatan Diagnosis. 2018;12:182–6.
7. Efendi, N. A. Faktor Penyebab Bermain Game online dan Dampak Negatifnya bagi Pelajar (Studi Kasus pada Warung Internet di Dusun Mendungan Desa Pabelan Kecamatan Kartasura Kabupaten Sukoharjo). 2014;
8. Rau P-LP, Peng S-Y, Yang C-C. Time Distortion for Expert and Novice Online Game Players. CyberPsychology Behav (Internet). 2006;9(4):396–403. Available from: https://doi.org/10.1089/cpb.2006.9.396
9. Masya H, Candra DA. Faktor-faktor yang mempengaruhi perilaku gangguan kecanduan game online pada peserta didik kelas x di madrasah aliyah al furqon prabumulih tahun pelajaran 2015/2016. 2016;03(1):153–69.
10. Beard C, Haas A, Wickham R, Stavropoulos V. Age of Initiation and Internet Gaming Disorder: The Role of Self-Esteem. Cyberpsychology, Behav Soc Netw. 2017;20:397–401.
11. Kirby A, Jones C, Copello A. The Impact of Massively Multiplayer Online Role Playing Games (MMORPGs) on Psychological Wellbeing and the Role of Play Motivations and Problematic Use. Int J Ment Health Addict. 2014;12.
12. Kim Y-Y, Kim M-H. The impact of social factors on excessive online game usage, moderated by online self-identity. Cluster Comput. 2017;20.
13. Ismi N, Akmal A. Dampak Game online Terhadap Perilaku Siswa di Lingkungan SMA Negeri 1 Bayang. J Civ Educ. 2020;3:1–10.
14. Dian S, Permana H. E-marketing strategy in game industry with social media using e-business model. 2016;258–63.
15. Ryan RM, Rigby CS, Przybylski A. The Motivational Pull of Video Games : A Self-Determination Theory Approach. 2006;
16. Chen K, Oliffe J, Kelly M. Internet Gaming Disorder: An Emergent Health Issue for Men. Am J Mens Health. 2018;12:155798831876695.
17. Agag G, Khashan M, El-Gayaar M. Understanding online gamers' intentions to play games online and effects on their loyalty: An integration of IDT, TAM and TPB. J Cust Behav. 2019;18:101–30.
al mubarok, dihya, & Soedirham, O. (2021). Gambaran Faktor Perilaku Bermain Game Online Pada Remaja. Preventif : Jurnal Kesehatan Masyarakat, 12(1), 87-99. https://doi.org/10.22487/preventif.v12i1.185