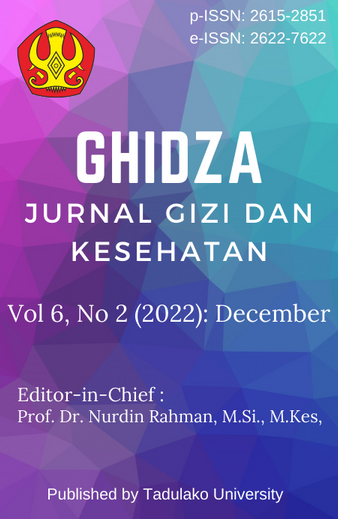 Nyeri Punggung Bawah pada Pekerja Perkantoran: A Systematic Review
Article History
Submited : November 17, 2022
Published : December 30, 2022
Nyeri Punggung Bawah (NPB) merupakan masalah kesehatan yang sering dihadapi para pekerja perkantoran, membuat seseorang merasa terganggu dan tidak nyaman sehingga bisa mengganggu produktivitas pekerjaannya. Menurut WHO, secara global gangguan muskuloskeletal dialami sekitar 1,71 miliar orang di seluruh dunia, dengan nyeri punggung bawah sebagai kontributor utama kecacatan di 160 negara dan membutuhkan layanan rehabilitasi di 134 dari 204 negara yang dianalisis. Tujuan penelitian ini untuk menjelaskan faktor risiko nyeri punggung bawah pada pekerja perkantoran. Penelitian ini merupakan systematic review menggunakan metode PRISMA (Preferred Reporting Items for Systematic Reviews and Meta Analyses) dengan dua database yaitu PubMed dan Science Direct. Rentang waktu yang digunakan adalah 2017 – 2022. Kata kunci yang digunakan "Low Back Pain" OR "Office Workers" menghasilkan 7 artikel yang dapat dianalisis dan membahas faktor risiko yang berhubungan dengan nyeri punggung bawah pada pekerja perkantoran. Empat jurnal termasuk dalam Q1 dan tiga jurnal lainnya termasuk Q2. Faktor risiko nyeri punggung bawah pada pekerja perkantoran berdasarkan hasil systematic review ini yaitu faktor individu (usia, jenis kelamin, Pendidikan), faktor gaya hidup (merokok, aktivitas fisik), faktor pekerjaan (posisi duduk, durasi duduk, frekuensi istirahat, kursi kerja) dan faktor psikologis (stress dan depresi). Kejadian nyeri punggung bawah pada pekerja perkantoran perlu dikendalikan agar meningkatkan produktivitas kerja, seperti melakukan stretching setiap 2 jam sekali di tengah pekerjaan, mengoreksi postur janggal pekerja, memodifikasi peralatan kantor khususnya kursi ergonomis dan sesuai dengan ukuran pekerja. 
Akkarakittichoke, N., & Janwantanakul, P. (2017). Seat Pressure Distribution Characteristics During 1 Hour Sitting in Office Workers With and Without Chronic Low Back Pain. Safety and Health at Work, 8(2), 212-219. https://doi.org/10.1016/j.shaw.2016.10.005
Aljonak, Alleluia Victoria dan Mila Tejamaya. (2022). Pengaruh Faktor Individu Terhadap Gangguan Muskuloskeletal pada Pekerja Kantor PT.X. Jurnal Universitas Pahlawan, https://journal.universitaspahlawan.ac.id/index.php/prepotif/article/view/3296/2794
Bontrup, C., et al. (2019). Low Back Pain and Its Relationship with Sitting Behaviour Among Sedentary Office Workers. Applied Ergonomics, 81. https://doi.org/10.1016/j.apergo.2019.102894
Cieza, Alarcos., et al. (2020). Global Estimates of The Need for Rehabilitation Based on The Global Burden of Disease Study 2019: A Systematic Analysis for The Global Burden of Disease Study 2019. The Lancet, 396(10267), 2006-2017. https://doi.org/10.1016/S0140-6736(20)32340-0
Hong, S.K., & Shin, D. C. (2020). Relationship Between Pain Intensity, Disability, Exercise Time and Computer Usage Time and Depression in Office Workers with Non-specific Chronic Low Back Pain. Medical Hypotheses, 137, 109562. https://doi.org/10.1016/j.mehy.2020.109562
Janwantanakul, P., et al. (2018). A Path Analysis of the Effects of Biopsychosocial Factors on the Onset of Nonspecific Low Back Pain in Office Workers. Journal of Manipulative and Physiological Therapeutics, 41(5), 405-412. https://doi.org/10.1016/j.jmpt.2017.10.012
Kementerian Kesehatan RI. (2019). Apa itu Perokok Aktif? https://p2ptm.kemkes.go.id/infographic-p2ptm/penyakit-paru-kronik/page/6/apa-itu-perokok-aktif
Kementerian Kesehatan RI. (2020). Buku Saku Seri Ergonomi Perkantoran. Direktorat Jenderal Kesehatan Masyarakat. Jakarta: Kementerian Kesehatan RI.
Lucas, J. W., Connor, E. M., & Bose, J. (2021). Back, Lower Limb, and Upper Limb Pain Among U.S. Adults, 2019. NCHS Data Brief, (415), 1-8
Malinska, M., Bugajska, J., & Bartuzi, P. (2021). Occupational and Non-Occupational Risk Factors for Neck and Lower Back Pain Among Computer Workers: a cross-sectional study. International Journal of Occupational Safety and Ergonomics, 27(4), 1108-1115. https://doi.org/10.1080/10803548.2021.1899650
Mohammadipour, Fariborz, et al. (2018). Work-related Musculoskeletal Disorders in Iranian Office Workers: Prevalence and Risk Factors. Journal of Medicine and Life 11(4), 328-333. https://doi.org/10.25122/jml-2018-0054
Page, M. J., et al. (2021). The PRISMA 2020 Statement: An Updated Guideline for Reporting Systematic Reviews. BMJ (Clinical Research Ed.), 372, n71. https://doi.org/10.1136/bmj.n71
Sinaga, T. A., & Makkiyah, F. A. (2021). Faktor yang Mempengaruhi Nyeri Punggung Bawah pada Usia Dewasa Madya di Jakarta dan Sekitarnya Tahun 2020. UPN Vet Jkt, (Sensorik Ii), 44-52. Retrieved from https://conference.upnvj.ac.id/index.php/sensorik/article/view/993
Sribastav, S.S., et al. (2018). Risk Factors Associated with Pain Severity in Patients with Non-Specific Low Back Pain in Southern China. Asian Spine Journal, 12(23), 533-543. https://doi.org/10.4184/asj.2018.12.3.533
Workneh, B. S., & Mekonen, E. G. (2021). Prevalence and Associated Factors of Low Back Pain Among Bank Workers in Gondar City, Northwest Ethiopia. Orthopedic Research and Reviews, 13, 25-33. https://doi.org/10.2147/ORR.S300823
Zaman, M. K. (2014). Hubungan Beberapa Faktor dengan Keluhan Nyeri Punggung Bawah pada Karyawan Kantor. Jurnal Kesehatan Komunitas, 2(4), 163-167. https://doi.org/10.25311/keskom.vol2.iss4.66
Rahmawaty, S., & Kurniawidjaja, L. (2022). Nyeri Punggung Bawah pada Pekerja Perkantoran: A Systematic Review. Ghidza: Jurnal Gizi Dan Kesehatan, 6(2), 239-245. https://doi.org/10.22487/ghidza.v6i2.581
Copyright (c) 2022 Ghidza: Jurnal Gizi dan Kesehatan
This work is licensed under a Creative Commons Attribution-ShareAlike 4.0 International License.