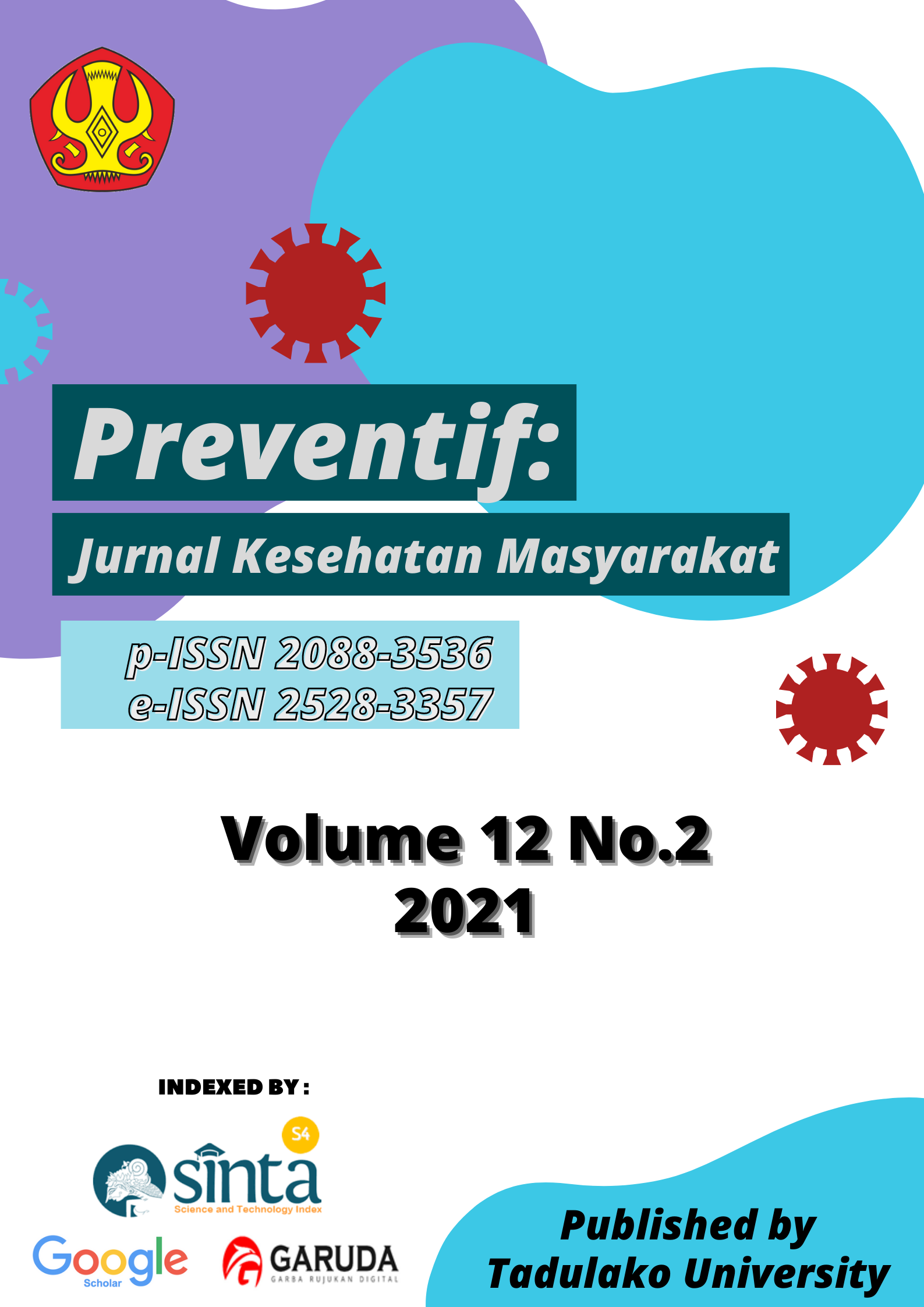 Health Education About Hypertension Using Leaflet Media Effective On People's Knowledge And Attitudes Of The Community In Tanete Labba Hamlet, Maros
Article History
Submited : December 30, 2021
Published : December 31, 2021
Hypertension or high blood pressure is a serious medical condition that significantly increases the risk of heart, brain, kidney, and other diseases. In COVID-19 patients, Arterial Hypertension (AH) is one of the cardiovascular comorbidities that can worsen outcomes and increase the risk of admission to the intensive care unit (ICU). This study aims to measure the effectiveness of health education about hypertension and blood pressure checks using the media leaflet on the knowledge and attitudes of the community in Tanete Labba Hamlet, Maros.This research is a quasi-experimental research with Pre-test and Post-test without Control Group Design in Tanete Labba Hamlet, Baji Pa'mai Village, Cenrana District, Maros Regency. The population in this study were residents of Tanete Labba Hamlet, Baji Pa'mai Village, using purposive sampling method with inclusion criteria of population aged 15 years and never or rarely had their health checked so that a sample of 38 respondents was obtained. The analysis used is a paired T test. The purpose of this counseling is to provide information related to hypertension risk factors, symptoms of hypertension, control and prevention of hypertension, namely in the form of recommendations to control blood pressure regularly at least every 6 months. Health education with leaflet media had a significant effect on the level of knowledge p = 0.002 (p < 0.05) and the attitude of respondents p = 0.000 (p < 0.05) about hypertension and blood pressure checks. Most of the community gave a positive response to the material presented, enthusiastic in reading the contents of the leaflet and asking questions about hypertension and blood pressure checks. It is important that education and counseling programs are developed according to the needs of the community so that they can increase the knowledge of the general public and bring about positive changes in attitudes and practices.
1. WHO. Hypertension [Internet]. Hypertension. 2021. Available from: https://www.who.int/news-room/fact-sheets/detail/hypertension
2. RISKESDAS. Riset Kesehatan Dasar 2018. Kementrian Kesehat Republik Indones. 2018;
3. Maxim LD, Niebo R, Utell MJ. Screening tests: A review with examples. Inhal Toxicol. 2014;26(13):811–828.
4. Verdecchia P, Angeli F, Cavallini C, Aita A, Turturiello D, De Fano M, et al. Sudden cardiac death in hypertensive patients. Hypertension. 2019;73(5):1071–1078.
5. Roesmono B, Hamsah, Irwan. Hubungan Perilaku Mengontrol Tekanan Darah dengan Kejadian Hipertensi. J Ilm Kesehat Pencerah. 2017;6(2):70–5.
6. Nurul Ilmi Idrus, Ansariadi JA. Determinan Pemeriksaan Rutin Tekanan Darah Pada Pasien Hipertensi Di Puskesmas Masengga Kabupaten Polewali Mandar Determinants of the Blood Pressure Check Up Routine on Hypertension Patients in Massenga Health Center Polewali Mandar District. Determ Pemeriksaan Rutin Tekanan Darah Pada Pasien Hipertens Di Puskesmas Masengga Kabupaten Polewali Mandar Determ Blood Press Check Up Routine Hypertens Patients Massenga Heal Cent Polewali Mandar Dist [Internet]. 2017;53(9):1689–99. Available from: file:///C:/Users/User/Downloads/fvm939e.pdf
7. Bryant KB, Sheppard JP, Ruiz-Negrón N, Kronish IM, Fontil V, King JB, et al. Impact of self-monitoring of blood pressure on processes of hypertension care and long-term blood pressure control. J Am Heart Assoc. 2020;9(15):e016174.
8. Sugiyono. Metode penelitian kuantitatif, kualitatif, dan R & D. Bandung: Alfabeta. Bandung: Alfabeta; 2013.
9. Glanz K, Lewis FM, Rimer B. Health Behavior and Health Education: Theory, Research, and Practice 4th Edition. John Wiley & Sons. 2008.
10. Chotisiri L, Yamarat K, Taneepanichskul S. Exploring knowledge, attitudes, and practices toward older adults with hypertension in primary care. J Multidiscip Healthc. 2016;9:559–564.
11. Jankowska-Polańska B, Uchmanowicz I, Dudek K, Mazur G. Relationship between patients' knowledge and medication adherence among patients with hypertension. Patient
Prefer Adherence. 2016;10:2437–2447.
12. Ozoemena EL, Iweama CN, Agbaje OS, Umoke PCI, Ene OC, Ofili PC, et al. Effects of a health education intervention on hypertension-related knowledge, prevention and self-care practices in Nigerian retirees: A quasi-experimental study. Arch Public Heal. 2019;77(1):1–16.
13. Ernawati I, Fandinata SS, Permatasari SN. The effect of leaflet on hypertension knowledge in hypertensive patients in community health center in Surabaya city. Open Access Maced J Med Sci. 2020;8(E):558–65.
14. Katz J, Peberdy A, editors. Promoting Health: Knowledge and Practice [Internet]. London: Macmillan Education UK; 1997. Available from: http://link.springer.com/10.1007/978-1-349-25430-9
15. Md S, George A, S. N, Gaffar PA. Development and Evaluation of Patient Information Leaflet Usefulness in Patients with Hypertension in a Tertiary Care Teaching Hospital. Manipal J Pharm Sci [Internet]. 2020;6(2):79–86. Available from: http://search.ebscohost.com/login.aspx?direct=true&db=asn&AN=147632193&site=ehost-live&authtype=ip,shib&user=s1523151
16. Thomas JA, Snigdha KS, Karanath PM, Swaroop AM. Impact of Patient Counselling on Knowledge, Attitude, and Practice of Hypertensive Patients in A Tertiary Care Hospital. Int J Pharm Pharm Sci. 2017;9(9):122–9.
17. Mondal R, Sarker RC, Acharya NP, Banik PC. Effectiveness of health education-based conventional intervention method to reduce noncommunicable diseases risk factors among rural population. Cardiovasc Diagn Ther. 2019;9(1):30–4.
18. Rashidi Y, Manaflouyan H, Pournaghi Azar F, Nikniaz Z, Nikniaz L, Ghaffari S. Knowledge, attitude and practice of Iranian hypertensive patients regarding hypertension. J Cardiovasc Thorac Res. 2018;10(1):14–9.
Jayadi, Y., Maharani, W., & Nurdiyanah, N. (2021). Health Education About Hypertension Using Leaflet Media Effective On People's Knowledge And Attitudes Of The Community In Tanete Labba Hamlet, Maros. Preventif : Jurnal Kesehatan Masyarakat, 12(2), 409. https://doi.org/10.22487/preventif.v12i2.453